Registration
Registration is accepted on a first-come, first-served basis. Balance is due upon registration. 
Community Guidelines
In order to effectively maintain a safe, equitable, and supportive learning environment, Lillstreet Art Center requires all students and staff to abide by the following community guidelines. By enrolling in a class at Lillstreet, you are agreeing to adhere to these expectations.
Maintaining a Safe Space
A healthy creative community is a safe creative community. Lillstreet Art Center upholds a zero tolerance policy for any acts of racism, sexism, transphobia, homophobia, xenophobia, ableism, bullying, harassment, threats, or violence.
Perpetuating Respect
A lack of kindness and respect interferes with both a student's ability to participate and Lillstreet's ability to conduct positive programming. Disruptive or harmful behaviors such as yelling angrily, being under the influence of alcohol or drugs in the studio, excluding others on the basis of ability, or micro-aggressions of any kind, are not permitted.
Respect for others also encompasses respect for our facilities. Please clean up after yourself and treat our spaces and facilities with care.
What Happens if I Violate these Guidelines?
If you violate these guidelines, Lillstreet will issue you a verbal or written warning, or ask that you not return, depending on the severity of the violation. Multiple warnings will result in expulsion. No refunds will be given in these instances
Thank you for helping us keep Lillstreet a safe space for all!
Cancellation and Refund Policy for Dropped Classes and Workshops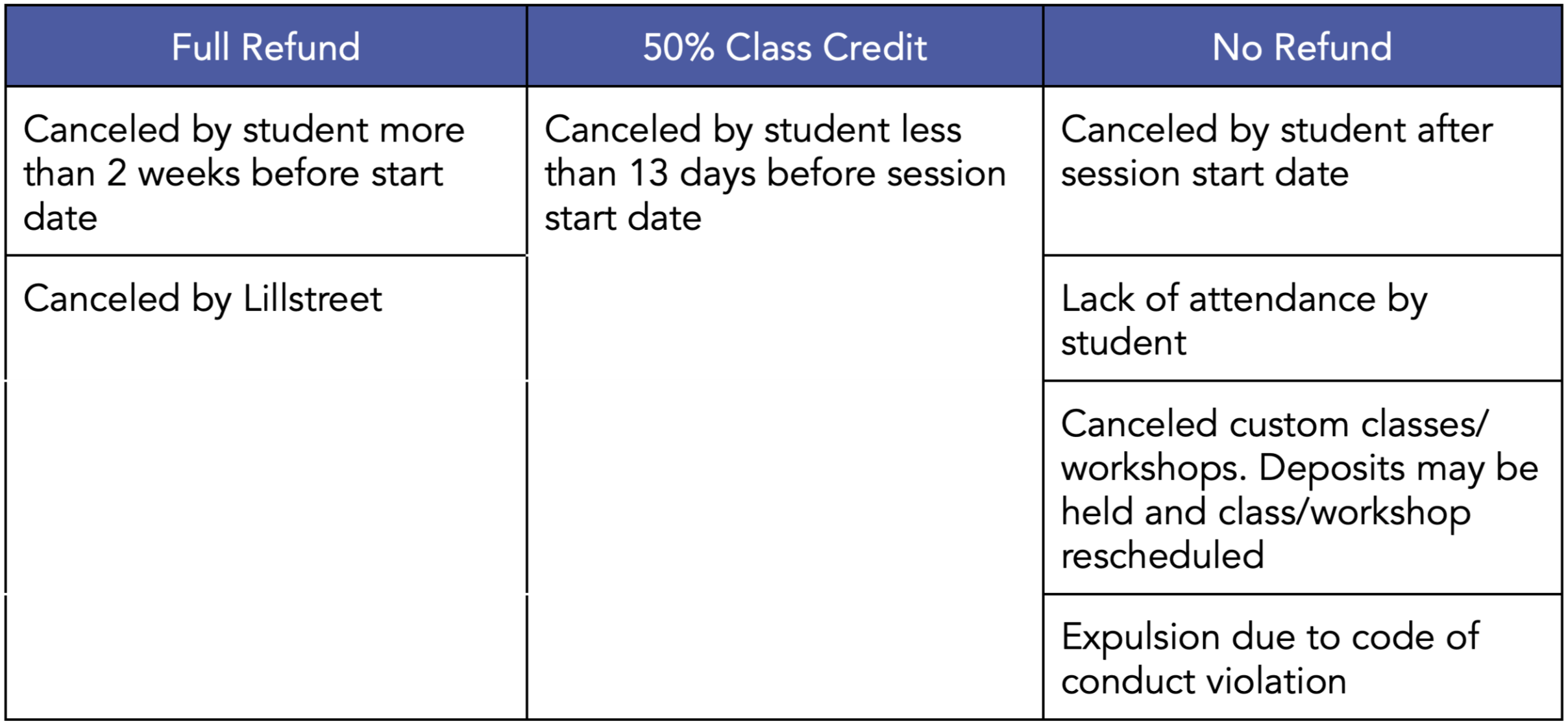 Please note cancellations will incur a $15 cancellation fee.
Cancellations by Lillstreet
Lillstreet Art Center reserves the right to cancel classes, workshops, and camps due to low enrollment. Students enrolled in canceled courses will receive a full refund. 
Students will be notified of cancellations at least three days prior to the class start date. Visiting artist workshops will be canceled at least 21 days before. Please note that Lillstreet cannot assume responsibility for travel costs for out-of-town students.
Children Taking Adult Classes
To register for an adult class, students must be at least 16 year old. Younger students may petition to enroll in an adult class by emailing lillstreet@lillstreet.com. If granted permission, a parent or guardian may be required to sign a waiver.
Photography & Film Releases
Registration grants Lillstreet Art Center with permission to photograph or film you or your child's participation in Lillstreet's education programs. We retain the right to use these images for Lillstreet-produced content.
Lillstreet does not permit outside filming or photography in classes or open studios for commercial use without written consent.